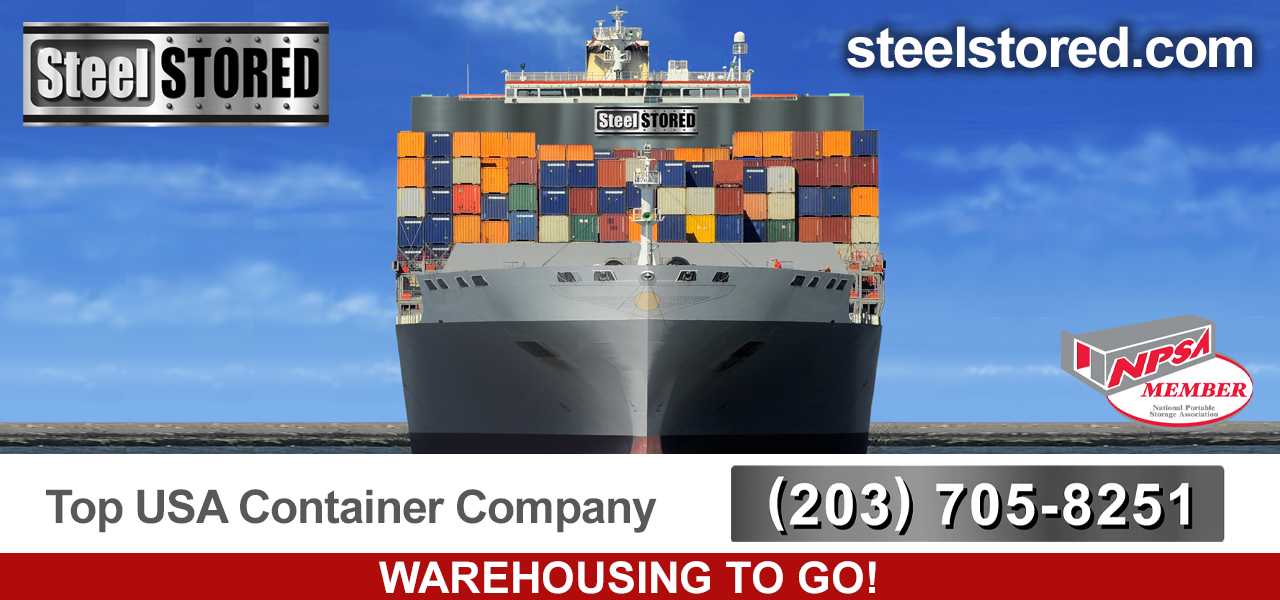 Airbnb for Retail: "Housing" for Inventory in Shipping Containers
Airbnb – which facilitates hoteling in homes – revolutionized the lodging industry. Costs immediately came down. A version of that could reset how retailers do business. That is taking the form of "housing" excess merchandise inventory in low-cost shipping containers. Then when a decision is made about the merchandise it can be transported in that same shipping container. The shipping container provides dual functionality. This lower-cost structure enables businesses to have more options in managing inventory.
SteelSTORED is a leader in providing this solution to retailers, including discounters, and their business partners. 
The Perfect Storm of Unsold Merchandise
As the media has been reporting, retailers have been caught in, to use that cliché, a perfect storm. That consists of unsold inventory. Some of it is piled up at ports, after being unloaded from ships. That merchandise ranges from appliances to furniture. Out there are the risks of theft and product damage. Some of the inventory is in stores. Some is stranded in expensive brick-and-mortar warehouses.
According to Independent Commodity Intelligence Services (ICIS), it could take several quarters for the inventory buildup to normalize. Walmart agrees with that projection. However, given the factors which gave life to that perfect storm, normal might never return to inventory management.
Supply Chains, Shifts in Customer Preferences, The Economy
Among those factors leading up to the perfect storm are supply chain bottlenecks which caused shipping delays. They result from COVID including the current lockdown in China, the war in Ukraine and other forms of political unrest, dependence on production in Asia, and out-of-date logistics. 
The supply chain experts at Carl Marks Advisors estimate that this disruption could last years. That primarily is because of inflation, economic conditions, and global political tension. Delays from the bottlenecks create disconnects between what had been ordered months before and what consumers want in the now. What is trapped at the ports is a sad testament to that gap. 
In addition, The Wall Street Journal reported in June 2022 that in general retailers had not caught up fast enough with shifts in consumer buying patterns. Among them has been a preference for purchasing services versus goods. 
There also have been the twin forces of inflation and a slowing global economy. Consumers focus on essentials like food and gasoline, not clothes or a new patio set.
Shipping Containers and Innovative Applications
The growing satisfaction we at SteelSTORED derive from our business is we can create innovative solutions for businesses. Among the most popular have been mobile pop-up stores. SteelSTORED's approach to that has been featured in ST Magazine. Portable pop-up stores provide the opportunity to test out new concepts in a variety of markets. Another inventive use of shipping containers has been for facility managers to upgrade rest rooms to align with the new regulatory requirements and what customers now demand.
Added to that list is that retailers can now use shipping containers to manage this perfect storm of inventory challenges. The applications include both the warehousing and the mobility from port or other locations to where the merchandise can be sold. Discounters will be in that loop.
The unique benefits of shipping containers, immediate and longer term, include:
Cost-efficiency. New or used the shipping container is low-cost to purchase. There is also the rental option. Its Corten steel construction makes it maintenance-free. It prevents corrosion. There is a watertight seal.

 
Range of sizes. They include 8', 20', and 40 feet. No merchandise batch is too small or too large.

 
Resistance to climate change and more. Designed and manufactured to endure harsh ocean conditions, the shipping container can stand up to extremes in weather, hurricanes, tornados, and earthquakes.

 
Security. The steel structure makes this kind of warehouse essentially theft resistant. There are double doors and no windows. Added-on could be other security devices.
Ease of transportability. On the ground, the warehouse can be loaded onto a trailer with the use of equipment such as forklifts. Twistlocks holds the structure securely in-place. Transport is also available by rail, plane, and ship.

 
Optimization of supplier network. That happens through the mobility of the container.
Reduced product damage. That is because there is less handling. Once the merchandise is loaded onto the shipping container for storage it does not require unpacking and reloading for transportation.
SteelSTORED Your One-stop Shopping 
Our mission at SteelSTORED is to partner with you on every aspect of your search for exactly the right solution. That includes information, the purchase, and the shipping to the customer location. Yes, we provide quotes. Our core value is transparency. There are never any surprises. Please connect with us at [email protected] or 203-705-8251.