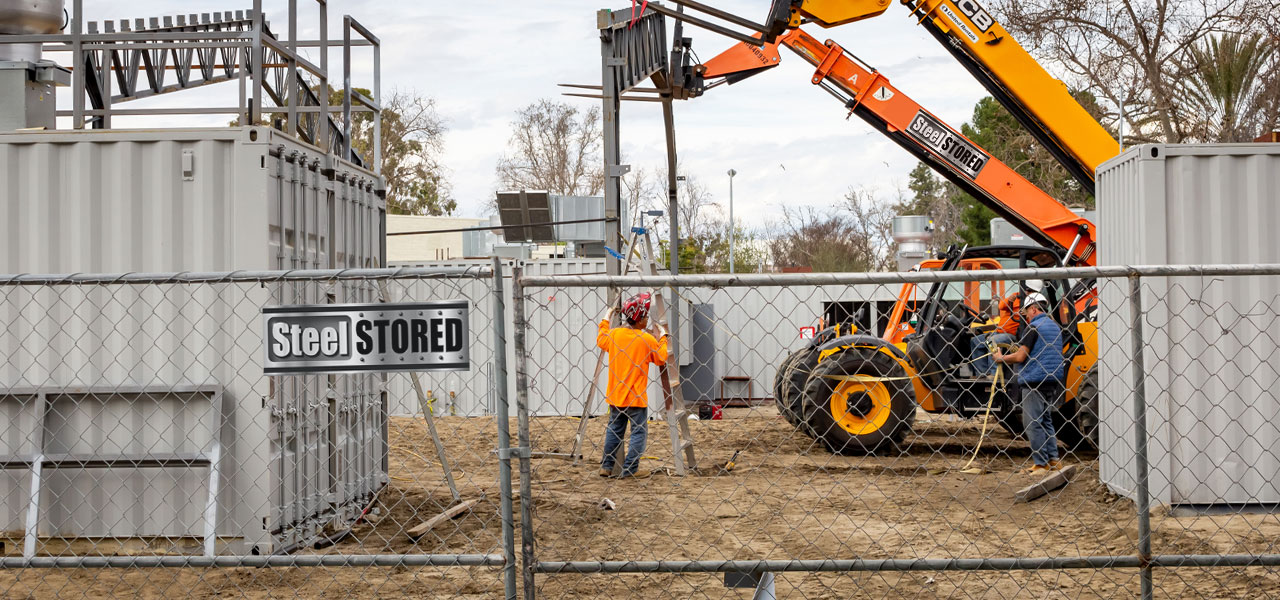 Construction Sites: Boosting Profit Margins with Shipping Container
For 2023, the construction industry is a tale of two demand patterns. One is about decline, the other about explosive growth. But in both, the objective, of course, is to maximize profit. That is not easy: The construction industry is a tough business, with many factors which cannot be controlled. However, for those which can be controlled such as cost-efficiency, using shipping containers on-site can boost profit margins. 
Mixed Demand
In these volatile times conditions could change on a dime. But currently Consumer Dives, a trusted source, foresees a 3% decline, when adjusted for inflation, for commercial construction. That includes retail, office hotels, and warehouses. The downward trajectory is being driven by rising interest rates which make funding expensive and a slowing economy which puts projects on-hold. 
In contrast, demand could triple for data centers built in the backyards of corporate headquarters. There is also the burst of construction for manufacturing facilities. With blocked supply chains and international political unrest, make-it-here or onshoring has become a trend. There too demand could increase three times what it had been in pre-pandemic times. 
Boosting Profit Margins
For both kinds of demand, though, the fundamentals for maintaining and boosting profit margins are the same. At the top of the list are:
Cost Control. That is especially through the productivity of all inputs, especially manpower. Human capital remains a major expense. In construction automation has not really taken off. ABB Robots documented its use at about 55%. In autos it is 85% and in manufacturing it is 79%. Meanwhile, Gallup reports that during 2022 employee engagement plunged to 32%. 
Risk Management. That sophisticated equipment, the materials, and documents about compliance – are they being kept safe? Should an assignment not be accepted in a geographical area vulnerable to extreme climate change? What safety practices are being taught to labor? Because the construction may be disruptive, will the neighbors seek an injunction to halt it?
Branding. The way business is conducted on-site can actually provide the reputational platform for developing new business and gain leverage in pricing. The aura of being a good corporate citizen as well as a model employer can help the construction firm loop out of the-lowest-bidder game. There is the old joke that the value of a brand is how much people will pay for it.
Shipping Containers On-Site and Profitability 
Using shipping containers on-site can move the dial on all three since the three intersect. The impacts can be synergistic. In a growing number of sectors, be they real estate, retail or warehousing, shipping containers have evolved into a multi-dimensional tool for boosting profitability. 
Follow the Cost Savings and More
In construction the meter for profit starts out with cost. For storage, office space, and hygiene facilities shipping containers retail at less than other options. Their lifespan is about 25 years. CargoHome documents their resale value can be 100 percent – or even more. They come in sizes 10, 20, and 40 feet long and 8 feet wide. 
Inventory management becomes more accurate because everything such as materials can be placed in one central spot. That reduces stress for the workforce. Also employees can have a sense of satisfaction of being more in control. In addition, there will be no surprises of running short of material or a tool.  ST Magazine saluted SteelSTORED for its expertise in inventory management. 
The heavy double steel doors deter theft of the pricey machinery and materials. That could prevent work stoppage and maybe even lower insurance costs. 
Containers can be stacked vertically and/or joined together horizontally.
Pretty Nice Inside, Isn't It
Retrofitting is also affordable because the interior does not need to be hollowed out. Built in is stylish flooring. Originally engineered for all kinds of environments they are pre-treated for pest control. No, rodents will not be surprise guests. 
Therefore, in addition to storage, the structure can be an attractive space for meetings, training, first-aid, naps, and just hanging out playing video games. Instead of that outdoor standalone "potty," a shipping container can be converted into a classy hygiene facility, right up to code with government regulations.  
The ambiance established by the shipping containers sends the message to the workforce: We care about you, we really do. 
Long-Term ROI
Shipping containers are mobile, designed to be transported by truck, rail, or water. That means they can be delivered to the next work site without the expensive tasks of unpacking and packing. 
Eliminating those extra steps does reduce product damage. Obviously once the shipping container is purchased, it is a "keeper." No need to continue to rent temporary facilities. The return-on-Investment is high.
Durability in Time of Climate Change
Among the risks for construction, of course, has been climate change. The weather in a geographical location can destroy equipment and wind up exposing hazardous materials to the public. That does not happen with shipping containers. They are used for their durability. Designed to navigate the seas in all kinds of conditions, they stand up to whatevers. Construction firms can promote that capability when pitching for new business. The motto could be: "In all climates."
Transforming Disruption into New Business Development
Another risk is push-back from neighbors because of the disruption. That can take the form of legal action, with a work stoppage. The odds of such a protest are less if the optics of the site indicate the project is well organized –  and fully under control.
The visuals of neatly arranged shipping containers with well-cared-for exteriors achieve that. The containers do not require maintenance as does conventional real estate. Not unthinkable: Visitors can be invited for meet-and-greets in the lounges of the shipping containers. Not only would that build goodwill. It also could function as a networking event for business referrals in that geographical region. 
Being a Good Corporate Citizen
Obviously, that kind of outreach leads into the construction firm's brand. That is, how constituencies experience that construction firm. Right from the get-go the reality is that the shipping containers can be transported and used over and over again for up to a quarter of a century. How green is that company. That is a story the construction firm can tell the media for positive publicity. 
Environmentally friendly credentials can also differentiate the business enough so that it can escape the financial bloodbath of low-ball bidding for assignments. Another point of differentiation is the engagement of the workforce whose members know they are respected. That can serve to conjure up the aura of a purpose-driven business, including every member of the construction team. The leverage over pricing that could bring represents a significant step forward for the profit margin. 
SteelStored – Your Trusted Partner
So here we are. Decisions about the construction site are complex. Mistakes can be expensive. Innovations can steer the business quickly to improved profit margins. It is never the raw revenue. It is the margin of profit. 
SteelSTORED is there for you as your information and hands-on partner. We know what keeps you up at night. So we are with you every step of the way. That is from the purchasing journey to transportation to retrofitting to questions on the site. Yes SteelSTORED provides quotes.  Please connect with us at [email protected] or 203-705-8251.