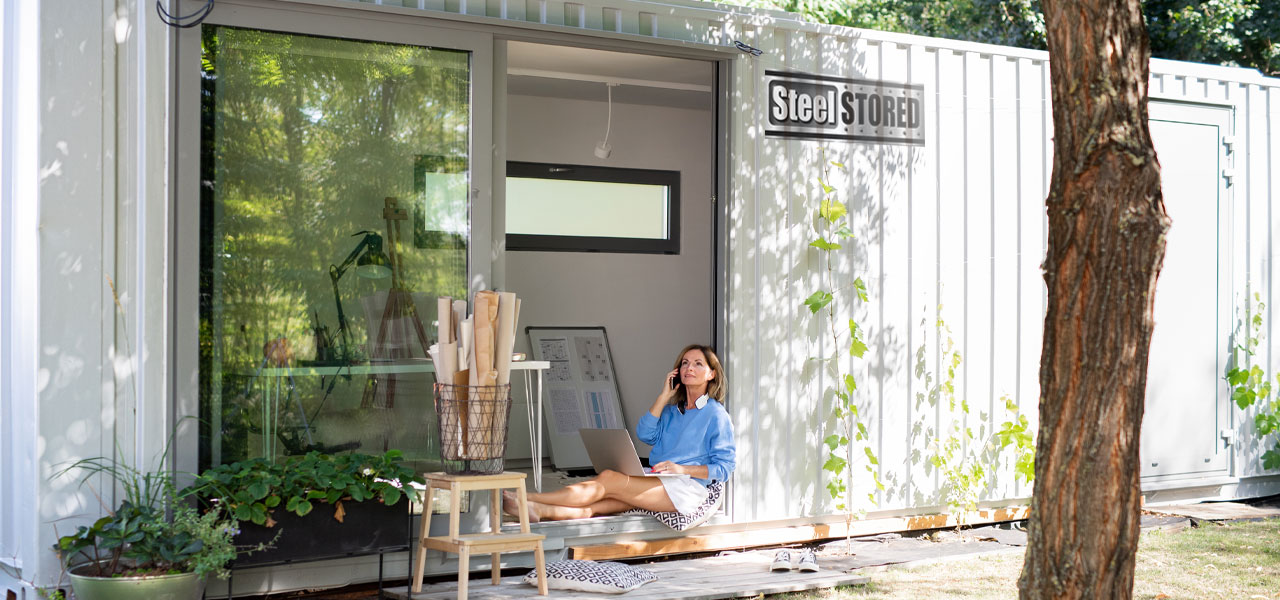 Converting Shipping Containers into a Tiny House
The Tiny House makes the American Dream of home ownership still possible. According to the National Association of Realtors, the median price for a single-family home is $403,800. Meanwhile, Property Management documents that the Tiny House costs less than one-fifth of traditional housing. In addition, utilities are more affordable – and consumption is eco-friendly – since the Tiny House consumes only 7 percent of the energy of traditional housing. Also there is the cool factor associated with the Tiny House movement for frugal living and simplification.
Converting shipping containers into the Tiny House makes this option fast to implement, easy to expand, and mobile. SteelSTORED is a leader in innovative applications for the shipping container. Those include consultations and sales for the Tiny House as well as direct shipment to the location for the Tiny House.
Tiny Houses Not So Tiny, Not Always Houses
"Michael, we are thinking of a Tiny House for our retirement home. What size shipping container should we buy?"
That is the typical question we get at SteelSTORED. To be helpful to the customers, we have to ask a lot more questions. That is because since the Tiny House became popular in the 1970s there has been so much disruption. That ranges from the escalating cost of standard housing to social values to zoning laws. All of those directly determine the purchasing decision about using the shipping container as a Tiny House.
The International Residential code, Appendix Q defines the Tiny House as "a dwelling 400 square feet or less in floor area, excluding lofts." However, with so much change, size can reach 1,000 feet. Stacking shipping containers vertically or connecting them horizontally makes that additional space available. Therefore, one must-ask question we at SteelStored have for prospects is: Down the road do shoppers anticipate the need for more space? For instance, the couple might be considering starting a family or having an aging parent move in. That will determine the size of the shipping container.
Another issue is the extent of portability. Shipping containers are designed for easy transport by truck, train, or water. However, the plan for the Tiny House might be actually for a kind of recreational vehicle. A shipping container might not be the best choice for that.
6 Benefits of the Shipping Containers
Usually customers come to SteelSTORED because they already are aware of the advantages of using shipping containers for their Tiny House dream. There are 6 key benefits:
Deep bench of experience in conversions. The Tiny Niche is a relatively small niche in real estate. Therefore there is not available extensive expertise in construction. It can be difficult to find a competent contractor for a Tiny House project.
In contrast, the shipping container is a major global industry. Over the years the number and types of conversions for other uses have exploded in growth. Those range from mobile warehouses to commercial rest rooms. Consequently the shipping container sector is blessed with broad-based experience in retrofitting structures. Using a shipping container for the Tiny House means tapping into that proven engineering and construction know-how.
Frame already in-place. That can reduce construction costs and speed up the process.
Designed for harsh ocean conditions. Made of Corten steel it had been configured for the harsh conditions of ocean travel. That ensures durability, weather-resistance even during climate change, and waterproofing.
Retrofits cost-efficient. The structure is "user-friendly" for creating windows, doors, and the aesthetics such as hardwood flooring.
Portability. According to the U.S. Census Bureau, the average American moves every 5 years. That loved Tiny House does not have to be left behind.
Flexibility. As a lifestyle changes, it is easy and affordable to create more space with additional shipping containers.
Approaching the Tiny House as a Real Estate Transaction
The counterculture spirit in the Tiny House movement can distract from the pragmatic realities. There are many to consider before even making the decision to live in a Tiny House.
Essentially this is as much a real estate transaction as purchasing the traditional house with the median 2,301 square footage. At the top of the list is cost. Of course, the expense for the shipping container per se is low. However, also to be factored into a budget is the construction over time. For DIY, Property Management puts the average low estimate at $23,000 and when contractors are brought into the loop that could about $60,000.There are also all those property issues of zoning and community attitudes about alternative kinds of housing. In addition, what about resale value? Because Tiny Houses are customized they can be more difficult to sell than traditional single-family houses.
We at SteelSTORED help prospective purchasers of shipping containers for a Tiny House think through those practicalities.
Checklist for Conversion
The internet contains detailed information about the complex process of shipping-container conversion for a Tiny House. Those sources range from articles to YouTube briefings. In our experience at SteelSTORED here are the major decisions:
Shipping container size. The smallest is 20' long, 8' wide, and 8'6" high. However, the recommendation is to purchase the 40' one. Many buyers do not anticipate the adjustment to living insmall space. Therefore, they regret "buying small."
Location. It is necessary to know the zoning rules and building codes, to obtain the proper permits, and also to factor in the costs of compliance. The latter could include retrofits that had not been initially planned.
DIY or contractor. If the latter, it is necessary to have written estimates.
Site preparation. The land might have to be leveled, a foundation set down, and arrangements made for utilities ranging from energy to hygiene.
Design. That covers everything from the interior layout of the rooms to the where windows will be cut out. These are not simply stylistic matters. For example, because of plumbing there should not be extensive distance from the kitchen to the bathroom. Also, removing any part of the original structure involves engineering knowledge. Otherwise the structural integrity can be impaired.
Common add-ons. In many climates insulation will be necessary. Living usually mandates appliances ranging from stoves to sinks. But those hunkering to live off the grid might not need them. Because there is so much foot traffic in that small space, many are willing to pay for attractive flooring as an overlay on what is installed. Eventually additional shipping containers can be "stacked" or connected side-by-side.
SteelSTORED Leader in Innovative Uses of Shipping Containers
When it comes to your decisions about a Tiny House, SteelSTORED is your knowledgeable and trusted partner. We are with you every step of the way on this exciting journey. That includes the initial consultation, quote for purchases, and transportation to the location for your Tiny House. Over the years we have become a leader in new uses for shipping containers. ST Magazine saluted our experience in converting shipping containers into mobile pop-up stores. Please connect with us at [email protected] or 203-705-8251.